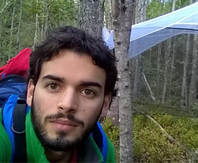 Daniel Marquina
is currently working in the Department of Bioinformatics and Genetics at the Swedish Museum of Natural History in Stockholm. His BIG4 project,
"A metagenomic approach to insect biodiversity and environmental monitoring"
will consist in the development and testing of a new method that improves the speed and taxonomic coverage in assessing the composition of insect communities on a certain habitat, under the supervision of Dr. Fredrik Ronquist.
Daniel is from Madrid, Spain and completed his B.Sc. and M.Sc. at the Complutense University of Madrid. In his Bachelor thesis, he studied the effects on the earthworm's growth and soil chemistry of the leaf litter from an invasive tree species. Simultaneously, he carried out a survey, in collaboration with the University of Seville, on the effects of the depth and sediment granulometry on the composition of the meiofaunal community, and its suitability as a bioindicator for pollution. Later, he worked at the National Museum of Natural Sciences of Spain, studying the taxonomy, biodiversity and molecular systematics of polyclad flatworms; this resulted in published papers in which the description of several new species was included. At the Museum he also completed his M.Sc. thesis, which involved molecular species delimitation in two genera of polyclad flatworms.
Daniel is passionate about the natural world, and especially enjoy sampling and field work, therefore, he spends time in related activities, such as trekking and SCUBA or apnea diving and loves to go "hunting" for a nice shot in the nature.
Find out more about his project: "A metagenomic approach to insect biodiversity and environmental monitoring"